We are pleased to update you about the fun that takes place on weekends with our new City Smart Teens program! We invite you to take a look at our updated schedule of the exciting weekend events coming from now through June! (Click Here for Event List)
City Smart Teens was developed in order to meet the needs of families and their 12-16 year old, who are looking for interesting and unique social opportunities on weekends. It has been thoughtfully designed exclusively for teens that need support in navigating the city, as well as navigating social dynamics in a group situation. Under our watch, teens travel in a group to interesting venues around New York — gaining independence and City Smart experience as they successfully make new friends outside of their school communities.
So far, City Smart Teens have had a blast together climbing walls at Brooklyn Boulders and exploring the variety of experiences that The High Line, Whitney Museum and nearby West Side Markets have to offer. Thanks to a growing number of enthusiastic members and a strong team, the program has surpassed our expectations and inspired others to join… and we are just getting started
"Brooklyn Boulders was a tremendous day for me! At first we all thought we could never make it to the top of the wall, but then each and every one of us made it and we were so psyched for each other." ~ City Smart teen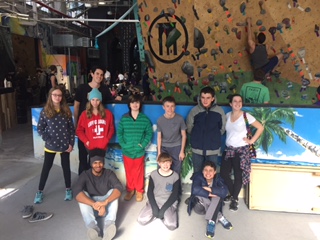 Most programs run for three hours, which allows time for the teens to really get to know each other. Week after week they get a better sense their independence and others' personalities, as they explore different parts of New York City — sharing new experiences and fostering a confident sense of themselves in relation to the Big Apple and beyond.
We believe that one of unique keys to its success is our of dynamic platform that combines experienced Meeting House Afterschool teaching artists with volunteer high school teen mentors that accompany members on each outing. This natural and unique combination of young energy and role modeling supports participant in many meaningful ways.
Our team has given thoughtful consideration toward designing experiences that place a strong emphasis on fun and friendship, while supporting natural opportunities to build social skills and strengthen independence. The weekend activities flow with the interests and abilities of the group and focus on interactive and creative adventures that promote a greater sense of wonder and connection between members. Each City Smart Teens outing provides guided opportunities for initiating and maintaining social communication, collaboration and problem solving, and bonding over shared experiences, while overcoming new challenges as a group.
We welcome you to take a look at the City Smart Teens blog to read and see what the City Smart groups have been up to so far, as well as to sit down with your child and review the schedule of future outings so that you too can join in on all the fun, friendship, and community!
Paula & Hunter