Another great week at TMH Juniors. It's amazing to see how the kids have really come together to form a great group. Conversations are taking place much more freely and independently during Hangout and Snack time. We are trying to encourage everyone in the group to try new toys and activities during this time as we have noticed that they have all gotten comfortable with certain toys, books and games. While the MagnaTiles continue to be a huge hit, we decided to introduce a new building toy today. The straws and connecters were a huge hit and the kids decided on their own to get together to build a huge structure. We didn't have enough time to finish the tent but have decided we will do that the next time we are together. This was a great opportunity for us to watch the kids work together.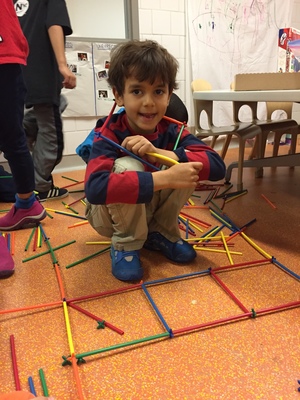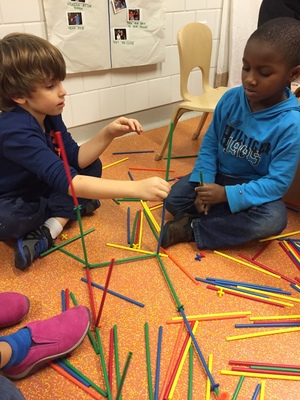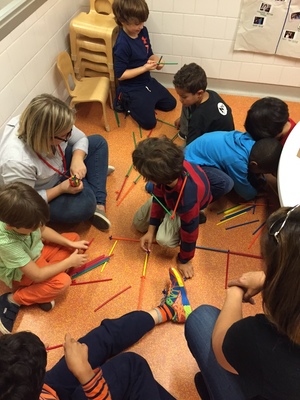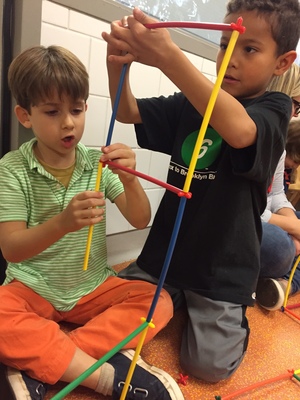 After hangout, we moved into mChat where we focused on being part of a group to complete a project. Using our Kimochi friends (Cloud, Bug and Cat), we were able to act out what being part of a group was. We also talked about what kinds of behaviors made you look like you aren't part of a group. We wanted to use this as an opportunity for them to problem solve and come up with ways to work together.
Our project for today was to build a TMH feelings and emotions puzzle. Each child got blank puzzle pieces and had to draw different feelings and emotions. Once they were all done drawing, they had to work together to put the whole puzzle together. Some of the kids got frustrated and wanted to give up, but they kept putting each other up and encouraging them to keep going. The excitement of putting that last puzzle piece in was a wonderful thing to watch! They all felt so proud!
We ended the afternoon with a quick game of charades. This was a great way to tie in all of the lessons we have been working on these first 5 weeks of group before moving onto new topics. The kids had to use 5 and watch their friends as they acted out an animal or sport. They needed to be part of the group....keep their bodies facing forward eyes on the person who was acting out. They couldn't bump into their friends words while they were talking. These are all important social skills that will lead to social success!
All in all, another great afternoon of Fun, Friendship and Community at TMH Juniors.